Best of Plants Chocolate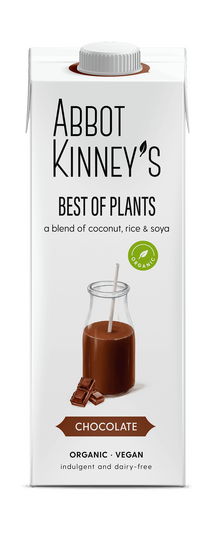 So what happens when you take the best thing ever (chocolate) and blend it together with creamy coconut, naturally sweet rice and a touch of Italy's best soy? Oh yes, a truly indulgent plant-based treat with a sweet cocoa flavor. That's what our Best of Plants Chocolate is all about. Fully organic and dairy-free, of course. Cheers to that, planet!
Enjoy this sweet cocoa drink as a base for warming hot chocolate, a delicious milkshake (tip: add frozen bananas!), or simply on its own.

View nutrition per 100g
View ingredients
Nutrition per 100g
Energy

301 kJ/ 72 kcal

Fat

2,2 g

of which saturates

0,9 g

Carbohydrates

11,0 g

of which sugars

7,0 g

Fibres

1,1 g

Protein

1,1 g

Salt

0,08 g
Ingredients
Water
6,63% Plant-based ingredients* (rice*, coconut*, soya beans*)
Raw cane sugar*
Rice starch*
1,2% Reduced fat cocoa powder*
1% Chocolate powder* (cocoa powder*, cocoa mass*, cane sugar*)
Cold pressed sunflower oil*
Stabilizer: guar gum*
Sea salt
*= of organic origin.
See ingredient list for allergens in bold.

Want to know more about our ingredients? View our FAQ
The Planet Called
It's time to switch it up and make organic plant-based the new norm. That's simply better for wildlife, soil and farm animals. Luckily nature offers lots of beautiful goodness that we can respectfully harvest and blend into tasty, plant-based chocolate drinks like this one. Cheers, planet! :-)
Want to know more about our mission? View our FAQ
Finally
Our Best of Plants Chocolate is a plant-based alternative to chocolate milk. It does not contain dairy or gluten. Suitable for vegans, vegetarians and omnivores.