Ready in 15 min + 25 min
Serves 5
Apfelstrudel with vanilla yog
By

Abbot Kinney's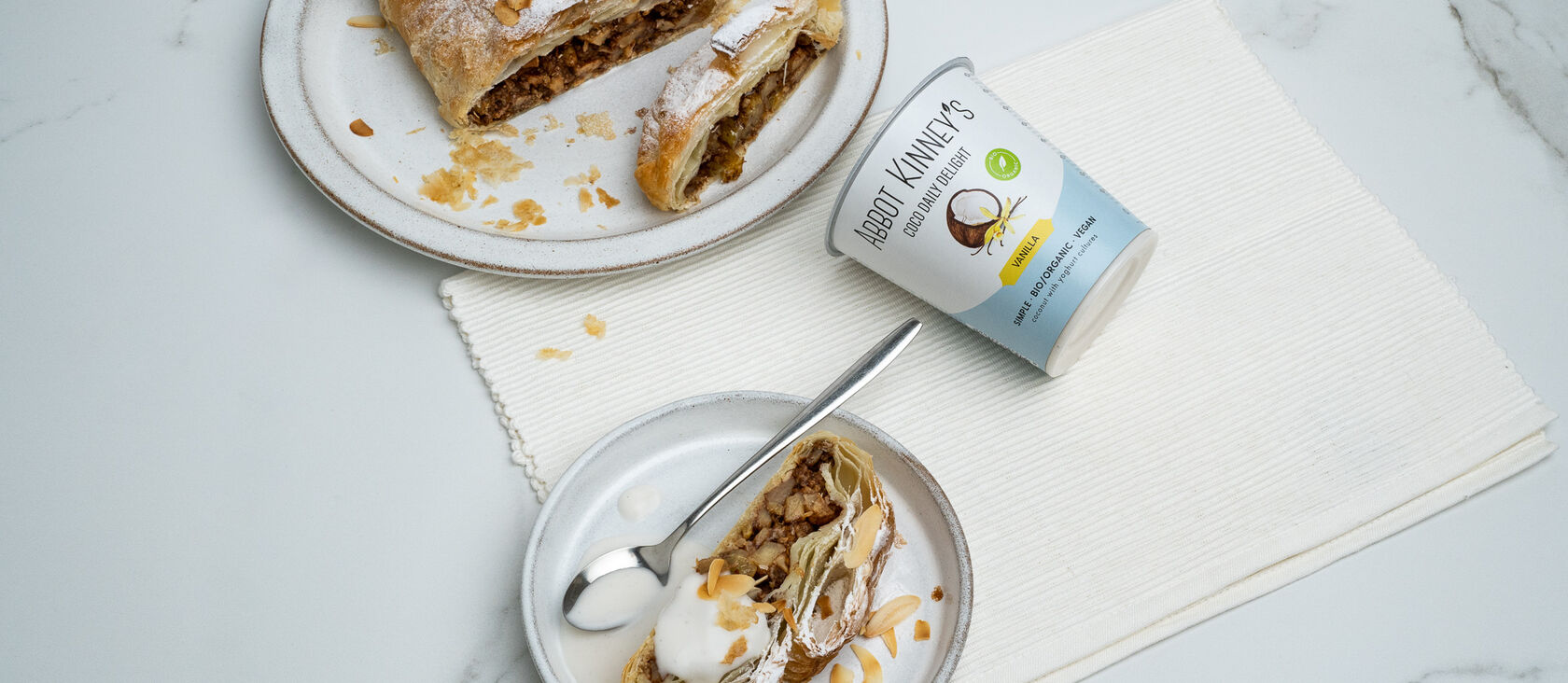 Instructions
Serves 5 | preparation time 15 min | oven time 25 min
Soak the raisins in a bowl of warm water for 30 minutes. Drain when ready.

Allow the roll of puff pastry to sit at room temperature for 10 minutes before rolling it out and assembling your dish.

Preheat the oven to 200° C. Melt the butter in a saucepan.

Place a sheet of baking paper across the work surface in front of you. Place the sheet of puff pastry on top so that the longer edge runs parallel to the work bench.

Mix together in a bowl: diced apple, lemon juice, orange zest, caster sugar, 30 g oatmeal, cinnamon, vanilla seeds, raisins (soaked and drained). Set aside for at least 5 minutes.

Designate an area in the middle of the pastry that is around 15 X 20 cm, this time vertically relative to the puff pastry sheet that is horizontal. Take a brush and cover this part with some melted butter and then sprinkle the remaining oatmeal on top.

Place the mixed apple filling onto the middle area of the puff pastry. First fold the short sides of the puff pastry over the apple filling and then the long sides. Cut away the excess dough from the corners. Brush the upper side of the Apfelstrudel with the remaining butter.

Bake for about 20-25 minutes, until the pastry is beautifully puffed and golden. In the meantime, roast the almond flakes in a dry frying pan.

Serve the Apfelstrudel as soon as it comes out of the oven with Coco Delight Daily Vanilla (on the side). Garnish with some powdered sugar (you may want to use a tea strainer for this) and roasted almonds.