Ready in 60 min.
Serves 4
Creamy coconut noodle soup
By

Abbot Kinney's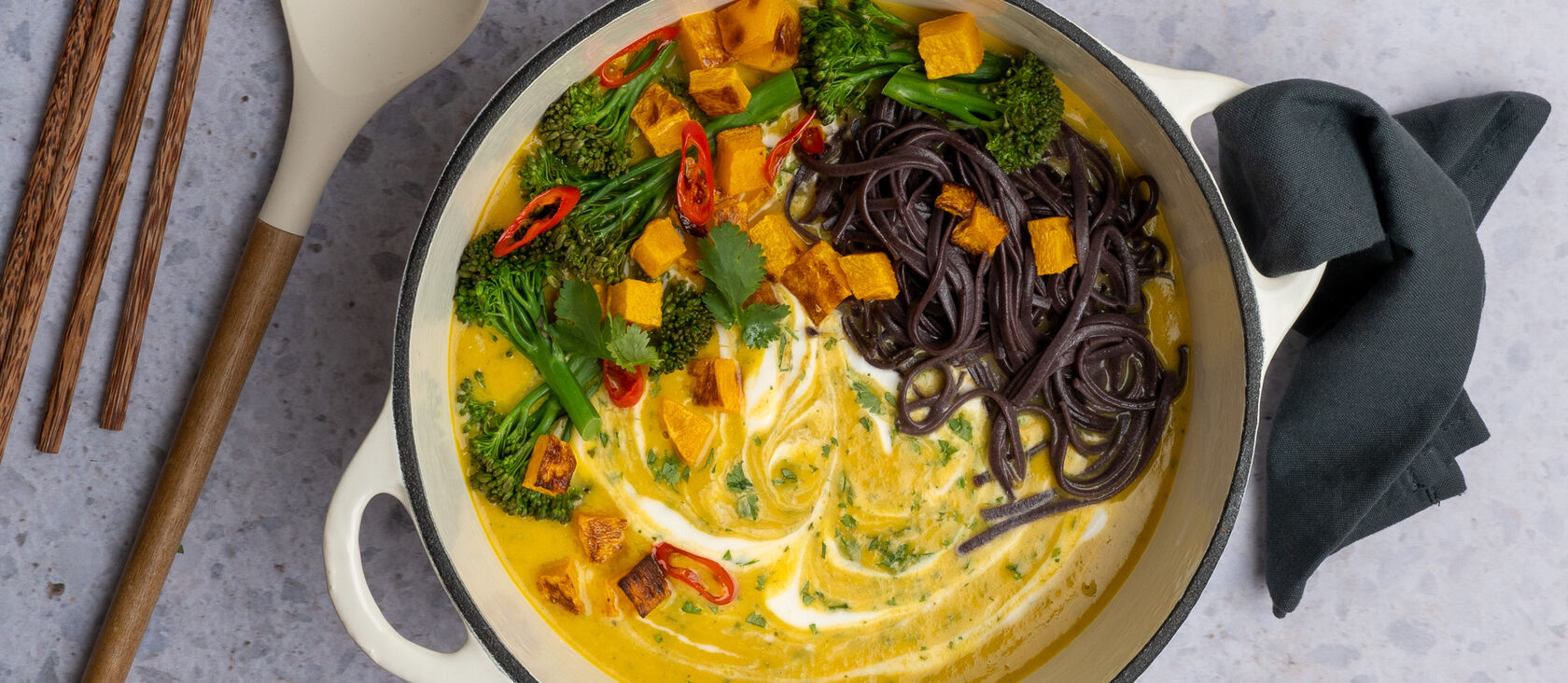 Serves 4-6 | Prep time 30 minutes | Oven time 30 minutes | Total time 60 minutes
Instructions

Preheat the oven to 220 °C degrees and line a baking sheet with baking paper.
Cut the cauliflower into roses and put them in the middle of the baking sheet.
Cut the pumpkin in half, remove the seeds with a spoon. Cut into cubes (1x1 cm) and put them on the outer sides of the baking sheet and rub everything in with some olive oil. Slide into the oven for 30 minutes.
Bring 1 L of water to a boil for the vegetable stock.
Put a big pot on the stove on medium heat. Add 3 tablespoons of olive oil and fry the sjalot for around 5 minutes. Then add the carrot, 1 (or more) red pepper and ginger. After 5 minutes of frying add the garlic and fry another 3 minutes while stirring.
Add the lemongrass and vegetable stock and bring to a boil.
As soon as the vegetables (from the oven) are ready, only add the cauliflower to the big pot and let the soup boil on low heat for another 10 minutes with the lid on. When ready add half of the coriander, 4 big spoons of Greek Style and blend into a nice and creamy cauliflower soup, add some extra water if necessary. Season with black pepper and salt.
Cook the noodles following instructions on the package.
Put a frying pan on the stove on low to medium heat, add 2 tablespoons of olive oil and fry the left red pepper for around 5 minutes.
Place the broccoli into the soup and cook on low heat for another 5 minutes.
You can either serve the soup in a pan or a bowl. Spoon a big spoon of Abbot Kinney's Coco Greek Style into the soup and add the pumpkin cubes and the noodles.
Garnish with coriander, red pepper and a slice of lime.