Coco Frost Cocoa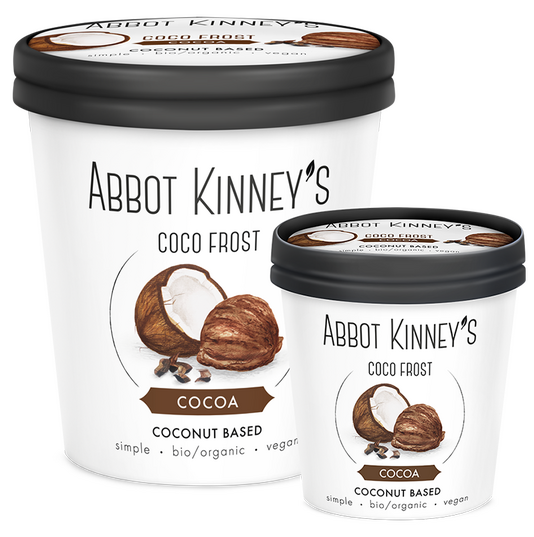 Our Coco Frost Cocoa is chocolate ice cream, reinvented. The natural and perfect marriage of creamy coconut milk, rich, dark cocoa, sweet cane sugar and fresh tangy yoghurt cultures. A modern chocolate taste explosion in one neat pot.
View nutrition per 100g
View ingredients
Nutrition per 100g
Energy

920 kJ / 221 kcal

Fat

14,7 g

of which saturates

12,8 g

Carbohydrates

20,4 g

of which sugars

19,0 g

Protein

1,8 g

Salt

0,01 g
Ingredients
75% Fermented coconut milk* (coconut milk*, thickener: locust bean gum*, yoghurt cultures**)
Cane sugar*
Glucose syrup (corn*, agave syrup*)
3% Cocoa powder*
Water
Emulsifier: sunflower lectihin*
Stabilizers: locust bean gum*, guar gum*
*Of organic origin
** S. thermophilus, L. bulgaricus, L. acidophilus, B. lactis
Like to know more about our ingredients? Have a look at our FAQ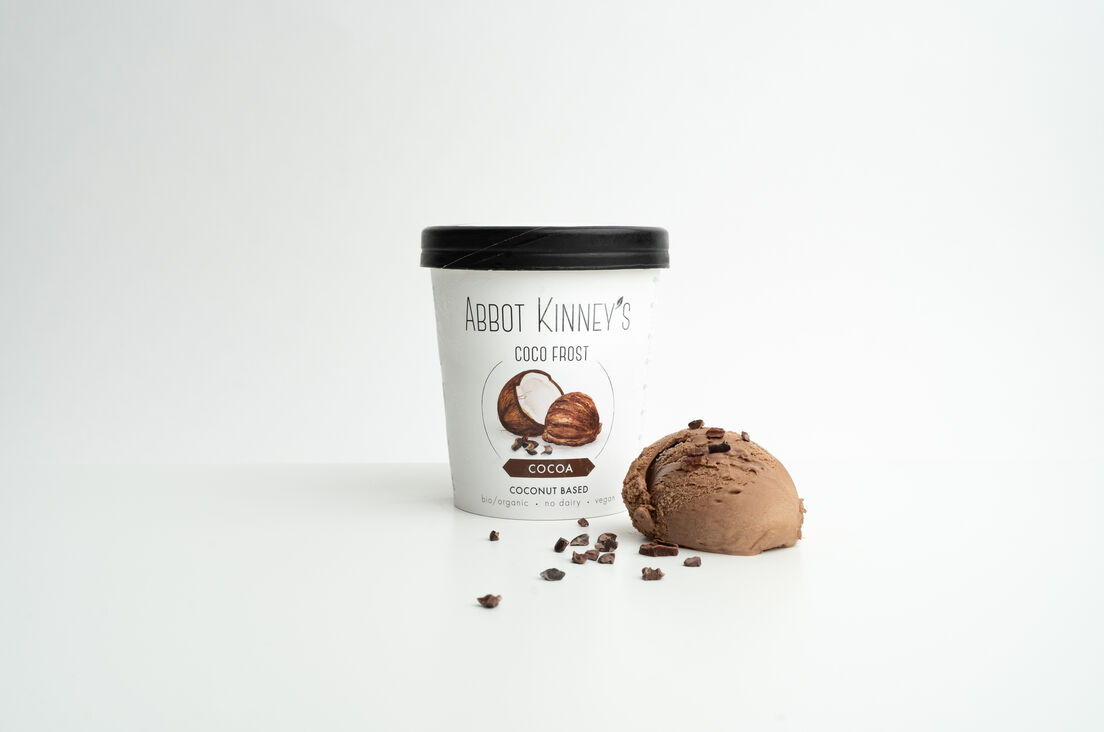 Good to know
To make nice and naturally scoopable ice cream, a 'dry' substance is required to ensure smooth production. For this, we use a blend of organic corn syrup (mix of corn and agave) and cane sugar. As you may have noticed, that's a different source than we used before in our Coco Frosts. The main reason for this is that cane sugar and corn syrup provide a higher 'dry matter' in the total mix of ingredients, which means that the ice cream can be produced even better.

We don't use anything we don't like, and we already have good experiences with using these organic sweeteners to make ice cream, as we have always used them for our Frosticks. Also, for the cocoa lovers out there, corn syrup helps to boosts the taste of cacao, which makes it great for our Coco Frost Cocoa. And, on top of that, cane sugar is a safer use regarding allergens. How sweet is that?
Coconut milk contains saturated fats and these make you feel full nice and quickly. 110ml (two scoops) should be plenty for the average ice cream eater.
Want to know more about coconut fats? Have a look at our FAQ
Finally
Coco Frost Cocoa is naturally free from dairy, gluten and soya. So it's suitable for vegans, vegetarians and omnivores everywhere.